Quest Local Advisory Board 
Quest's Local Advisory Board (LAB) plays a key role in supporting MacIntyre Academies Trust Board to fulfil their regulatory duties by providing local scrutiny.
Particular focus is given to:
Implementation of the School Improvement Plan and school curriculum
Implementation of MacIntyre Academies' Safeguarding Policy
Attainment and progress reports, including pupil premium
Recruitment, HR and staffing structures
Local academy marketing and relationships with all local stakeholders
Other locally co-ordinated activities and forums
Our Local Advisory Board Membership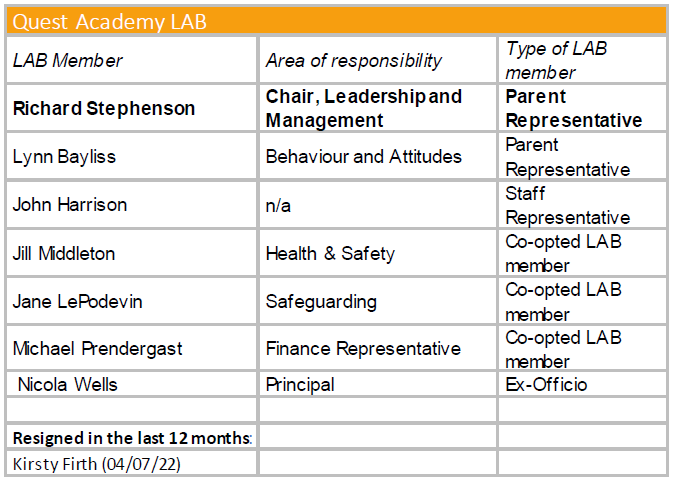 Quest Academy Local Advisory Board Members

The LAB also worked with the Principal, during the pre-opening stages of the Academy, to advise on the development of local policy and curriculum, local community links and support in the recruitment of a staff team. The role of the LAB is identified in the Terms of Reference below.
Contact
Quest LAB Clerk is Shelley Campos and she can be contacted via:
quest.clerk@macintyreacademies.org
Further governance information