PSHE
Our Values
PSHE education helps pupils to develop the knowledge, skills and attributes they need to thrive as individuals, family members and members of society. From making responsible decisions about alcohol to succeeding in their first job, PSHE education helps pupils to manage many of the most critical opportunities, challenges and responsibilities they will face growing up.
Teaching and Learning
At Quest Academy, we deliver PSHE education through:
-Daily Form Time- All classes following Form Time Powerpoint, ensuring messages are universal
-Weekly timetabled lessons led by teachers
-Weekly assemblies, making links for our learners to the wider world
-Our " be ready, be respectful , be safe days, which happen at the start of each new term.
PSHE in the school curriculum
At Quest Academy, we provide many opportunities to promote pupils' personal and social development through the curriculum, including: Belonging and identify; first aid, sex and relationship education, substances education, financial education, Careers education, personal health (physical and mental) and bereavement, human rights and abuses including FGM.
Outside of the main curriculum the following add value to PSHE within the wider school context:
• Core and foundation subjects
• Cross-curricular projects
• School/student Council
• Invited visitors
• Personalised Learning
• Work with vulnerable students including social skills groups, TA key workers, games clubs at lunchtimes, Play therapy
• Whole school events e.g health/industry days
• Educational visits and school trips
• School publications
• Mini enterprise schemes
• Work experience
3D PSHE Programme
We use the 3D PSHE Programme as a driver for delivering the subject:
3D PSHE develops fully-rounded children who are healthy, sociable and emotionally literate. It covers key concepts and skills to help you fulfil your statutory responsibility to support pupils' SMSC (moral, social and cultural) education, focusing on Health and Wellbeing, Relationships and Living in the Wider World. Naturally, British Values are at the heart of 3D PSHE and we have also crafted age-appropriate resources to support schools who wish to discuss Extremism and Radicalisation with pupils.
3D PSHE prepares children for life in modern Britain today. It also helps pupils develop and apply skills and attitudes to allow them to become full and active citizens in our wider global community.
Lessons are mapped to suit individual class needs and abilities.
Core Themes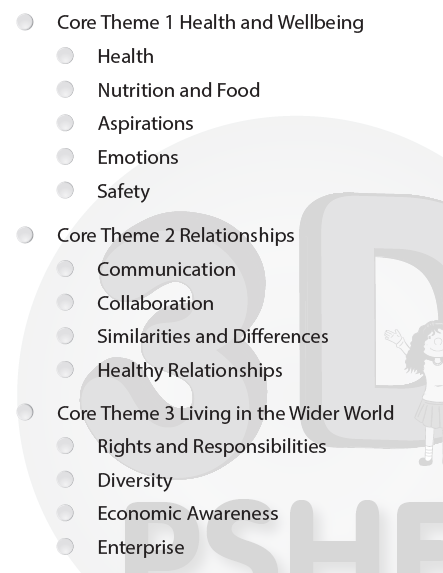 Confidentiality
Relationships between staff and students are central to the ethos of our partnership. It is important that appropriate ground rules are established for PHSE work and that staff and students are aware that any discussions during PHSE should not be repeated outside of the classroom. However, if a member of staff becomes worried about a child's health, state of mind or safety as a result of comments during PHSE the concerns should be shared with a Designated Safeguarding Lead.
Safeguarding Learners
PSHE plays a very important part in fulfilling the statutory duties all schools have to meet. PSHE helps pupils to know and understand how to keep themselves and others safe, make informed decisions and manage risk and equips them with the knowledge and skills to get help if they need it. When teaching any sensitive issue, pupils may give cause for concern, and a link needs to be made with the pastoral system and safeguarding arrangements. All adults involved in PSHE delivery need to be aware of the pastoral system and safeguarding arrangements in place.
Assessment
PSHE learning will be assessed using Odyssey Assessment system in line with our Holistic Curriculum.
Ambitious targets will be set and reviewed to ensure that learners make progress in their PSHE education.