Welcome to Dalai Lama Class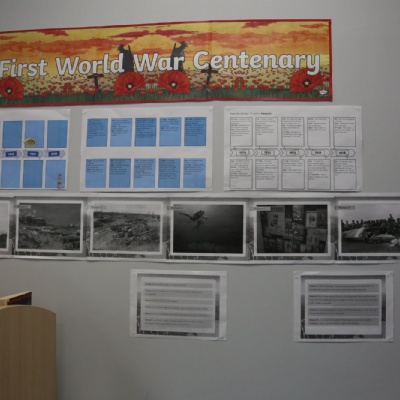 October 2021 - Autumn term 1 - Week 4
Dalai Lama began the week in English by drawing their interpretations of Dracula's Castle and brainstorming some of the themes of the story. They have listened to the next section of the book, before sequencing a storyboard of the events we have learned about so far. In Maths, Y11 have been revising their fractions knowledge. They have been practicing adding and subtracting fractions, while focusing on writing down their workings out for their exam technique.
In Science, learners have been looking at the electromagnetic spectrum. They have learned the names and properties of the different waves, and took on the challenge of building their own electromagnets using a metal nail and some wire. They also conducted an experiment to test out Quest's new infrared camera. In PE, Dalai Lama spent one lesson this week continuing work on their dodgeball skills, particularly focusing on preventing players on the bench from catching the ball. In their other lesson, they enjoyed a game of rounders in the MUGA. In Computing, learners were challenged to use their photo editing skills to create a mini planet from a panorama of a city of their choice. They also spent a fun lesson using technology to shred different faces. In ASDAN, all learners have now selected all their Unit 1 challenges and are working hard to produce their project work for this qualification.
In Art, learners began work on their final pieces, using all the techniques they have learned so far, and taking inspiration from their portfolios. They are producing work inspired by sweets and by animal skulls. In Hospitality & Catering learners were challenged to follow a brownie recipe. They demonstrated their skills with different equipment, including a bain-marie and a hand whisk. Their finished products smelled very delicious.



September 2021 - Autumn Term 1 - Week 3
This week in English, Dalai Lama have continued their study of Dracula and Gothic fiction. They have begun reading some passages from the text and been challenged to use quotations to support their answers. They also got the chance to ask Jonathan Harker some questions when teacher John stepped into the hotseat. In Maths, the learners have continued working hard through their exam prep books. And at the end of the week, they were treated to the BODMAS song, before demonstrating their BODMAS skills in a crossnumber.
In Science, Year 11 have been studying magnetic fields and properties of waves. They are improving their use of formula triangles, and enjoyed using magnets and iron filings to illustrate magnetic fields. In PE, they have continued working on dodgeball skills, learning new skills warm ups, and getting competitive in some games. In Computing, learners have continued developing their photo editing skills when they were challenged to illustrate a person with a range of thoughts coming out of their head. Some very creative work was produced! Dalai Lama also began their first piece of project work in ASDAN. They each chose their own challenge and showed excellent focus and perseverance in their first project lesson. In Quest 8, learners headed out to the new track to begin their walking challenge, enjoying the weather while running and walking their first laps.
In Art, Year 11 learners continued working on their portfolios, editing and annotating previous work, and beginning some new pieces. Learners thought carefully about colour choices this week. In Hospitality & Catering, Dalai Lama made pizza from scratch. They had to give the dough time to prove, before selecting their favourite toppings. Some lucky staff were treated to a slice, and they all commented on how professional the learners' work was!

September 2021 - Autumn Term 1 - Week 2
This week in English, Dalai Lama have continued studying gothic fiction. They have explored themes and atmosphere, as well as reading extracts from 'Dracula' and beginning to analyse the language used. In Maths, they are working on a Number topic. The learners have been practicing word problems to improve their skills in interpreting exam-style questions and selecting the correct method to solve them. In Science, learners have been studying Physics, learning about energy transfer and how to solve questions using formula triangles.
In PE, Dalai Lama are practising dodgeball. They have enjoyed a range of warm-up and skills games, before demonstrating their abilities in a dodgeball match. In Computing, year 11 are focussing on photo editing. The learners have learned how to use a new programme to edit their own photos, this week aiming to create a compound image. In ASDAN, learners have begun their PSE qualification by creating their own portfolio title pages to represent themselves and choosing their first projects. They also watched a video of Nelson Mandela to understand the concept of Ubuntu. And in Quest 8, learners have researched and explored different charities, before working as a class to select which they would like to fundraise for this year.
In Art, learners have continued producing work for their portfolios, using a range of materials and producing work inspired by chocolate bars and animal skulls. And in Hospitality and Catering, year 11 were challenged to make a vegetable soup to demonstrate their skills in knife safety. They really worked hard on their presentation and created some very impressive products.

September 2021 - Autumn Term 1 - Week 1
This week, Dalai Lama spent the first 3 days settling in to their new tutor group and getting to know some new staff members. They successfully solved clues as a team to escape from a lockdown escape room and practiced their social skills with some new board and card games. They also enjoyed a Paralympics-themed PE lesson where they got to try 3 different Paralympic sports: bowling, basketball and volleyball. The learners all showed perseverance and enjoyed the challenge.
Dalai Lama then began their Y11 timetable. This week in English they played some communication games to get to know their new English teacher. 'Two Truths, One Lie' was particularly successful and entertaining! And in ASDAN they have begun working towards a new qualification in Personal and Social Effectiveness. In Hospitality and Catering, learners demonstrated their skills in the kitchen making scrambled eggs and slicing mango, before completing sensory evaluations of their work.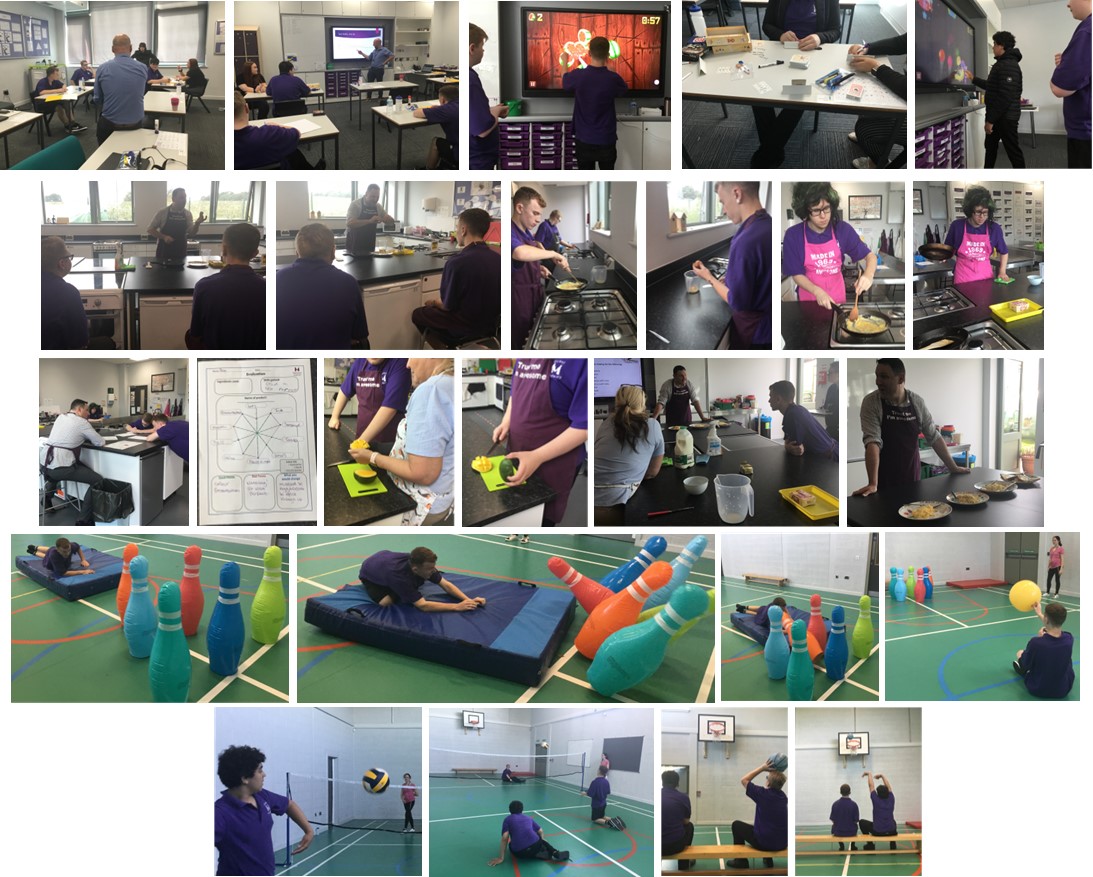 May 2021
Over the last few weeks, Year 11 have been offering their services as reading mentors to lower school!

April 2021
Joe from Dalai Lama has been mentoring and advising the learners of Albert Einstein. He started his reading mentoring with one of the learners today and that was a success. After the Easter Holidays we shall be asking all the lower school classes if they would like a year 11 learner to come and mentor on a Tuesday afternoon during the timetabled reading slot to listen to younger learners.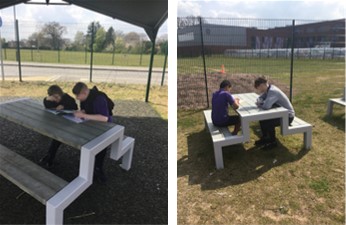 March 2021
This week Dalai Lama were watching and critiquing entrepreneurs on Dragon's Den in preparation for their Speaking and Listening element of their English qualification.
On World Book Day learners in Dalai Lama did some bearings work in Maths. They enjoyed identifying the characters they knew and asked about characters didn't know, such as Oberon. Hartley was happy to spot MacBeth, as he is currently reading MacBeth the Graphic Novel.
In Art, Andrew and Joe have been working hard on their portfolios on Identity, with Andrew trying different techniques to make his self-portraits pop with colour and Joe has been honing his sketching techniques.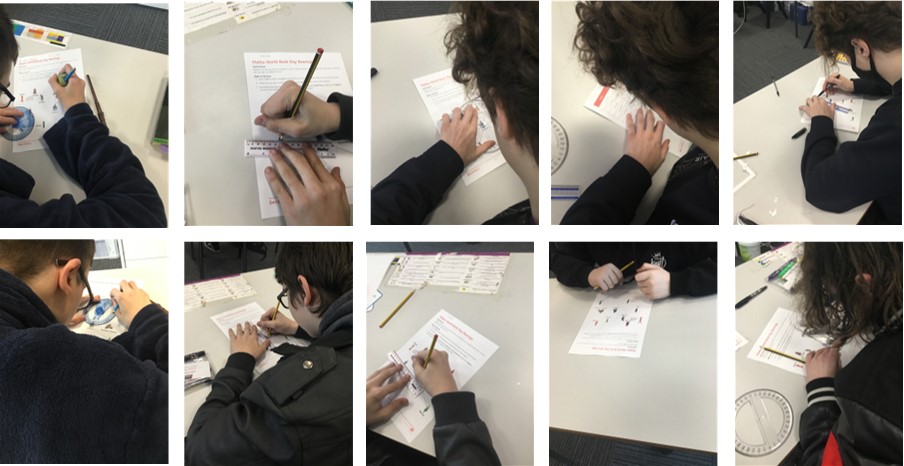 January 2021
Josh and Hartley have been creating the dishes that they have planned on their bespoke menu plan for their Catering and Hospitality Qualification. This week they made Millionaire Shortbread!
Joe has been working hard on his Michael Jackson portfolio for his Art project on Identity, we are really proud of the progress he makes each week!
Dalai Lama did some fantastic mind maps as part of their biology science revision.