Welcome to Alan Turning Class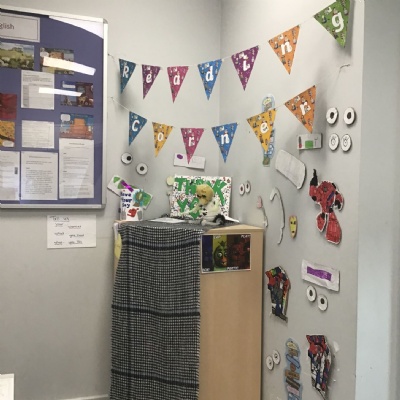 March/April 2021 - Spring Term 2 - Week 5 & 6
Over the last two weeks we have finished off our stories in English and 'what makes me me' PowerPoints in creative curriculum. We have also carried on with our work on fractions in maths, starting to learn more on adding fractions with different denominators. During art in the last couple of weeks we have been making cardboard animals/insects using different tools some of us have not used before, which many enjoyed. We have also carried on with forest school making toast last week and marshmallow s'mores this week. We have all enjoyed starting the fire, making shelters and, this week, having a fun Easter egg hunt. Finally, the whole class have enjoyed the basketball term in P.E, improve their 'lay-ups', shooting skills and teamwork.

March 2021 - Spring Term 2 - Week 3 & 4
We welcomed all our learners back into school during week 3 and it was great to see them all back together again, it was lovely to see how excited they all were to be reunited as they all came back together again.
During week 3 we enjoyed STEM week with lots of fun activities such as making butter, cheese and yoghurt in food tech to making our own rockets to launch outside, this helped make a smoother transition back for everyone.
During week 4 we returned to our normal timetable, during food tech we made our own meatballs and pasta, during English we continued looking at conjunctions and in maths we continue working out improper fractions. This week we also started our on-site forest school lessons which were great fun, we made a fire which we then boiled water to make hot chocolate and cooked toast over the fire using the sticks we whittled to hold the bread in place.

March 2021 - Spring term 2 - Week 1 & 2
It's been a busy two weeks in Alan Turing as we get ready to welcome all our learners back next week!
Since returning from half term, we have started to learn about improper fractions and mixed numbers, during our English lessons we are discovering how to use character descriptions and sentence structure to enable us to write a descriptive story. During creative curriculum we have started to design a PowerPoint detailing our hobbies and interests and during food tech we have made scrummy cookies and vegetable soup.
Today we have celebrated world book day and enjoyed seeing all our learners dressed in their costumes.
We look forward to seeing all our learners in Alan Turning back on Wednesday 10th March.

February 2021 - Spring term 1 - Week 6
This week we enjoyed a snow day before returning to school for our final week before spring half term which we are looking forward to as it's been a busy 6 weeks!
This week's learning has seen us create an information leaflet about Hercules and his 12 labours, plus look at the model verbs and how we use them within everyday sentences during our English lessons. During maths we looked at equivalent fractions and during food tech we made delicious pancakes. We also completed our minecraft cities project during our creative curriculum lesson.
Today we have finished off our half term by discussing ' The rights of a child' and how sharing what we think that means for us before finishing off our day enjoying our in-class cinema experience with yummy popcorn.
We hope our learners all have a lovely and relaxed half term break ☺️

February 2021 - Spring term - Week 5
This week in Alan Turing we have continued to discover more tales from Greek Mythology with this week's tale being ' The 12 labours of Hercules' in which we discovered all the tasks Hercules was made to undertake to be forgiven for his deadly actions!
During our maths lessons we have learnt how to calculate the area of irregular shapes and looked at simple fractions. During our food tech lesson with Cathy, we made either scrummy flapjacks topped with melted chocolate or yummy chocolate muffins, all tasted delicious!
To end our week, we have discussed what a 'want' or 'need' would be and how sometimes it can mean both. We also made some tasty hot chocolate bags topped with marshmallows to take home and enjoy.

January 2021 - Spring term - Week 3 & 4
All our learners have had a brilliant week this week and last and have worked extremely hard. We have continued with our Greek Myths over the past two weeks, focusing on Icarus last week and Pandora's Box this week, which they all seemed to enjoy. Learners also engaged in work on complete sentences, learning all components and forms of punctuation and have learnt different types of words such as nouns, verbs and adjectives.
During math's we have moved onto now looking at the area of rectangles and compound shapes and have completed more complex questions with multi step problems.
For our science lessons, last week learners created a solar powered box from cardboard and tinfoil to show how the solar power works to heat things up. This week they have moved on to learn who discovered Oxygen and how flames burn due to Oxygen being present.
We had a wonderful food tech lesson again this week and made some yummy marshmallow that we then used to decorate some biscuits with. The learner also melted down chocolate and used googly eyes in order to turn their decorated biscuits into poo emojis.
Finally, we have continued adding more places to the towns/cities that the learners have been building as part of the creative curriculum and we were able to use the VR as a reward for all the hard work the learners have put in.


January 2021 - Spring term - Week 2
This week we have been very proud of our learners whom are working hard at home to complete their home learning, despite how challenging we know this can be.
Within our English lesson this week we continued looking at stories from Greek Mythology with the focus of learning being the tale of Perseus and Medusa. We also looked at how we use possessive apostrophes with plurals.
During maths we continued to look at the perimeter of solid shapes, as well as working out how to find the perimeter of unusual shapes when not given all the measurements.
We have also been looking at time and helping those whom are still struggling, how to tell the time by using our class resources.
During food tech we made some delicious cupcakes which we later decorated with yummy icing.
Finally, we continued to create our own town or city during creative curriculum using minecraft.

January 2021 - Spring term - Week 1
This week in Alan Turing it has been quite different to our normal week, due to new restrictions placed upon us all. However, we have worked hard to try and keep the routine as normal as possible for our learners within class and provided home learning for our learners at home.
For our maths this week we have started to learn how to measure the perimeter of a shape, in English we have started a new topic, Greek Mythology and learnt the story of Theseus and the Minotaur and during our Food tech lesson we cooked pasta, making our own sauce from scratch using various ingredients.